---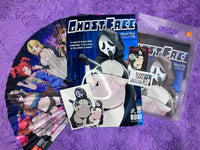 Sale
Ghost Face Bundle Collection!
What this bundle includes :
LIMITED EDITION -
- Shirt (PLEASE INCLUDE A SIZE IN THE NOTES)
- 3 Inch Ghost Face , glows in the dark (If you're lucky, you might win the Secret Variant Ghost Face, picked at random)
- 6 Inch Spot Holo Sticker
- Medium Sticker
- Credit Card SIMP Card cover
- UV Reaction Festival Fan
- 11 x 17 Poster
Disclaimer : Secret Variants are random. Customers do not have the option of buying secret variants. 
Thankyou for supporting our small business!